An original and functional Apple-1 computer is up for auction on eBay, where it could fetch hundreds of thousands of dollars. The Apple-1 computer available for sale is known as the "Schlumberger 2" Apple-1, and it has been restored to full working condition.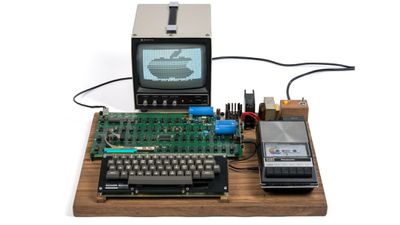 One of only dozens of Apple-1 computers remaining, the device is said to feature "almost all period-correct components" with the appropriate "make, part, and production date for an Apple-1 'NTI' board," with the exception of some multiplexor ICs.
The Schlumberger 2 Apple-1 is a second-batch Apple-1 computer that was originally purchased by an executive at oil services company Schlumberger Overseas in 1977. The Apple-1 is believed to be one of the last Apple-1 computers assembled in the Jobs family garage in late 1976 or early 1977.
The AAPL Collection's Jimmy Grewal owns the Apple-1 computer, and it is expected to sell for around $485,000 due to its condition and original components. The Schlumberger 2 Apple-1 has been signed by Apple co-founder Steve Wozniak, and the auction is set to last until June 12.
The Apple-1 was the first Apple product created by Steve Jobs and Steve Wozniak when Apple Computer was founded, and there are few left in existence of the original 200 that were manufactured.
A first batch Apple-1 went up for auction in May and sold for more than $460,000, and back in November 2021, an Apple-1 in a koa wood case sold for $500,000. Other Apple-1 computers have sold for upwards of $815,000, with rarer machines fetching more money.
Related Stories
Rare First Batch Apple-1 to Fetch Over $250,000 at Auction
Yet another rare Apple-1 computer is up for auction, and this one already has a bid of over $250,000. The Apple-1 was the first Apple product created by Steve Jobs and Steve Wozniak when Apple Computer was founded, and there are few left in existence. Apple-1 models that come up for auction often fetch high prices because of their rarity, and this particular Apple-1 up for sale is number 7…
Rare Apple-1 Computer in Koa Wood Case Fetches $500,000 at Auction
A rare fully functional Apple-1 computer has sold for $500,000 at auction this week, according to John Moran Auctioneers in California (via BBC News). The rare Hawaiian koa wood-cased Apple-1 has had only two owners, a college professor and his student to whom he sold the machine for $650. The sale included user manuals and Apple software on two cassette tapes. Apple co-founder Steve…
Rare Check Signed by Steve Jobs and Steve Wozniak Expected to Fetch $25,000+ at Auction
As part of a "Steve Jobs Revolution" collection, RR Auction is this week selling off multiple pieces of rare memorabilia related to Jobs, including a check that was signed by both Steve Jobs and Steve Wozniak. Dated July 15, 1976, the "Apple Computer Company" check is made out to Kierulff Electronics for $3,430. The check was written in the same month that Wozniak demonstrated the first…
Apple Imagines Mac-Inside-a-Keyboard Device Evocative of 80s Home Computers
Apple is exploring the possibility of integrating a fully functioning Mac within a keyboard, reminiscent of home computers of the 80s, such as the Commodore 64 and Sinclair ZX Spectrum. Image credit: Vissles The concept was revealed by the U.S. Patent and Trademark Office in a new Apple patent application called "Computer in an input device," which describes a thicker Magic Keyboard-style…
Apple II Manual Signed by Steve Jobs Sells for $787,483
An Apple II manual signed by Steve Jobs and Mike Markkula sold for $787,484 at auction this month after garnering 46 bids. The 196 page manual was addressed to Julian Brewer, the son of Michael Brewer. Michael Brewer negotiated distribution rights for Apple in the UK in 1979, and the manual had a personal message inside. "Julian, your generation is the first to grow up with computers. Go…
Today Marks Steve Jobs' 67th Birthday as MacRumors Turns 22
Born on February 24, 1955, if Steve Jobs were alive today, he would celebrate his 67th birthday. Jobs, the co-founder and former CEO of Apple, tragically died in 2011 after his battle with pancreatic cancer. He was just 56. Apple under Jobs unarguably changed the world, from the launch of the very first Apple computer in 1976 to the launch of the iPod, iPhone, and iPad. Jobs founded and ran…
20 Years Ago Today, Apple Unveiled the eMac
Today marks the 20th anniversary of Apple introducing the eMac, designed specifically for educational use in classrooms and computer labs. eMac via Hellenic IT Museum Priced at $999 in the United States, the original eMac featured a white enclosure with a 17-inch flat-faced CRT display, a 700 MHz PowerPC G4 processor, 128 MB of RAM, a 40 GB hard drive, five USB ports, two FireWire ports, two…
Popular Stories
WWDC 2022 Apple Event Live Keynote Coverage: iOS 16, macOS 13, MacBook Air, and More
Apple's Worldwide Developers Conference (WWDC) starts today with the traditional keynote kicking things off at 10:00 a.m. Pacific Time. We're expecting to see a number of announcements, including iOS 16, macOS 13, watchOS 9, and tvOS 16, though it's unclear what else we'll be seeing at the event. A redesigned MacBook Air tops the list of potential new hardware, but supply chain issues…
Apple Announces iOS 16: First Look at New Features
Apple today previewed iOS 16, the company's next major update for the iPhone, featuring a redesigned, customizable Lock Screen, improvements to Messages, Maps, and Home, new sharing and personalization capabilities, and more. Lock Screen, Notifications, and Focus An all-new, fully customizable Lock Screen allows users to edit a large number of design elements, including type styles and…
Apple Announces Redesigned MacBook Air With M2 Chip, Notch, MagSafe, New Colors, and More
Apple today at WWDC 2022 announced the next-generation MacBook Air with the all-new M2 chip, a redesigned unibody enclosure, a brighter display with a notch, new color options like Starlight and Midnight, MagSafe charging, a 1080p camera, and more. Subscribe to the MacRumors YouTube channel for more videos. The new MacBook Air looks similar to the latest 14-inch and 16-inch MacBook Pro…
Everything Apple Announced at the WWDC 2022 Keynote in 13 Minutes
Apple on Monday held a keynote event that saw the introduction of iOS 16, iPadOS 16, macOS 13 Ventura, watchOS 9, and the new M2 Apple silicon chip, which is soon-to-be available in the MacBook Air and 13-inch MacBook Pro. Subscribe to the MacRumors YouTube channel for more videos. It was a crazy event where Apple introduced feature after feature for almost two hours straight. For those who…
What's New in tvOS 16 for Apple TV: Features and Enhancements
While the Apple TV was an afterthought during the WWDC 2022 keynote, there is indeed a new tvOS 16 update for all Apple TV HD and Apple TV 4K models, with the first beta released to developers for testing yesterday. Below, we've rounded up several new features and enhancements coming in the software update. An overview of new tvOS 16 features for Apple TV:Cross-device connectivity: Apple…
Apple Announces Multi-Display CarPlay With Integrated Speedometer, Climate Controls, and More
Apple today at WWDC 2022 announced the "next generation" of CarPlay, which will support multiple displays within a vehicle, offer built-in climate controls for adjusting the temperature of the A/C or heat within the CarPlay interface, and more. The next-generation CarPlay experience will be able to provide content across multiple screens within a vehicle, and deeper integration with a…