Cloud Gaming has taken the world by storm, and Microsoft's Xbox Cloud Gaming (opens in new tab) (xCloud) service is at the forefront of it all. Xbox Cloud Gaming brings the fun and excitement of Xbox console games out of the home, allowing gamers to play on their personal tablets and mobile phones. On top of that, with the power of Xbox's premium Xbox Game Pass Ultimate (opens in new tab) subscription, you can access hundreds upon hundreds of Xbox titles and play them wherever you are.
While some Xbox Cloud Gaming titles offer touch-screen controls, gamepad controllers are still vastly superior as they are more accurate and comfortable to handle. The coming of Cloud Gaming has brought about a never-ending wave of third-party controllers and gadgets that can transform your phone into a full-blown Xbox handheld console. Standard Xbox gamepads are still viable, but gamepads modeled after the Nintendo Switch (opens in new tab) and mobile-friendly mounts are a much better alternative for gaming on the go.
As there are so many controllers to choose from, we have compiled a list of the best Xbox Cloud Gaming controllers on the market to help you achieve the best possible Cloud Gaming experience.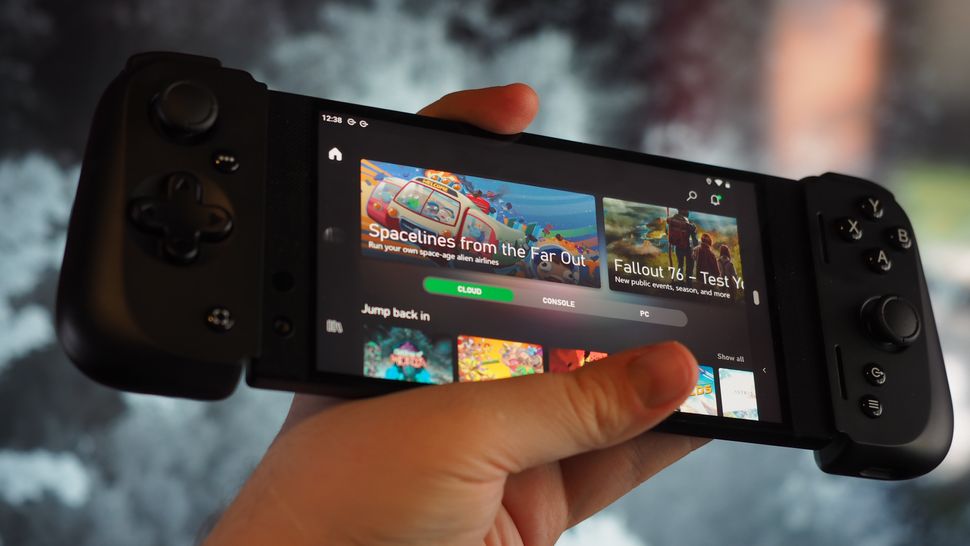 The possibilities of cloud-streaming are immense – allowing fully-fledged Xbox games to be played on all types of mobile devices being chief among them. However, the harsh reality is that many of these Xbox console titles were never designed with phones and touchscreen controls in mind. Investing in an xCloud-compatible controller is the optimum way to go for the best Cloud Gaming experience, and our Razer Kishi V2 review shows it as one of the finest controllers out there.
Critically acclaimed for high-performance laptops, neon headsets, and many other devices related to gaming, the Razer Kishi V2 controller is the culmination of Razer's (opens in new tab) many years of refining and perfecting their craft. The Razer Kishi V2 controller is inspired by the Nintendo Switch's Joy-Con controllers, splitting the controls over two panels with the screen between them — turning your phone into an Xbox handheld console.
The Razer Kishi V2 controller seamlessly integrates itself onto your phone, it is easy to hold, and the materials are durable and lightweight. The button layout is easy to understand, and the unit is highly portable, making it an ideal choice for Cloud Gaming. The controller is best used while traveling, especially for short gaming sessions, but it can still be used comfortably while relaxing at home.
In addition, the Razer Kishi V2 is compatible with nearly every modern USB-C Android phone and even has removable rubber inlets to accommodate thicker phones, phone covers, and smaller tablets.
That being said, the price of the Razer Kishi V2 may give cause for concern as the retail price is over $100, much higher than its predecessor. Our Razer Kishi V1 review showed it as an excellent and affordable controller in its own right. However, considering that the V2 controller significantly improves upon nearly every facet of the V1 controller, from ergonomics, refined inputs, materials, and more, the steeper price tag is worth it in the long run.
You can purchase the Razer Kishi V2 at most electronic retailers, online shops, and cell phone outlets.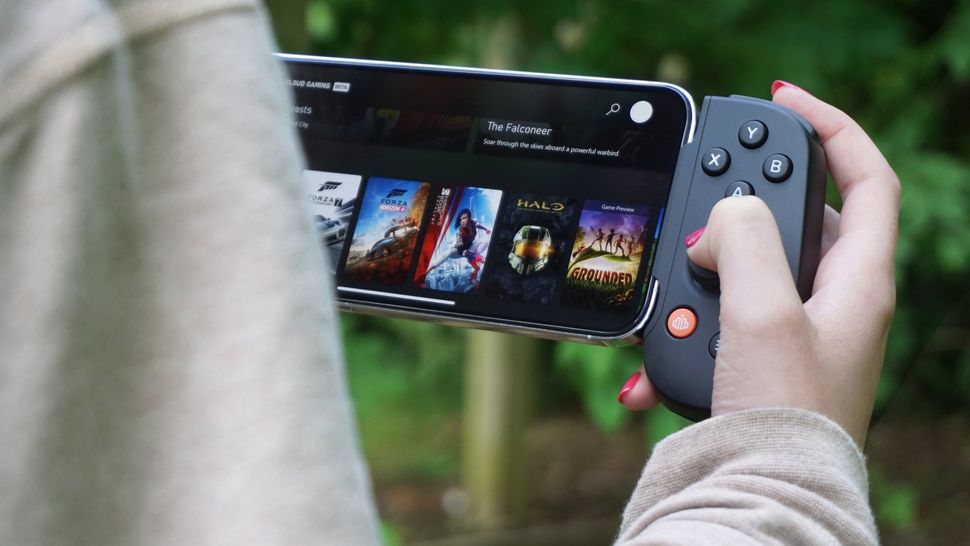 While countless accessory makers have served the growing demand for cloud gaming gear, Backbone Labs is doing things differently. The startup debuted with earning a reputation for its best-in-class hardware in our Backbone One controller review, with a full-fledged gaming platform to match. It's the closest thing yet to an Xbox handheld, completing the Xbox Cloud Gaming experience for iPhone users.
The Backbone One has a ton to offer for Xbox Cloud Gaming users, though right now, it's iOS-exclusive, with an Android version still in the works. Though the Razer Kishi caters to a much broader demographic, the Backbone One refines the idea of mobile gaming in almost every way, bringing all the luxuries of consoles to smartphones. It's the best controller for cloud gaming if you have an iPhone.
Backbone Labs got a lot right out of the gate, with a stellar design compounding crafted ergonomics and slick software into a high-quality package. The side-by-side controls adopt the familiar Nintendo Switch-style layout, working around the dimensions of your phone's display. Xbox users will also find the usual ABXY buttons, asymmetric sticks, and other standard controls, making it an easy move from the console.
It's the complete experience where the Backbone One shines, coupling the controller with a full gaming hub. The companion app centers around an Xbox dashboard-inspired home screen, rounding up mobile apps and cloud services into one unified library. The controller also has a dedicated button for screenshots and video capture, among other hooks making clever use of iOS and its limitations.
The Backbone One is the best gaming controller out there for iPhone gaming, supporting a vast array of top mobile titles while offering first-class Xbox cloud gaming integration. The final product, both hardware and software, is nothing short of astounding. We named it our top mobile accessory in 2021, justifying its price tag with an experience unlike anything else on the market.
The Backbone One has long been considered one of the best Xbox Cloud Gaming accessories. Following the launch of the Razer Kishi V2, its clear competitors also look to replicate its success. The device has since received Microsoft's blessing under the "Designed for Xbox" range, with a free Game Pass membership, among other services, now bundled with each controller. While that $99 price positions it as a more premium option, it's by far the best controller for iOS (opens in new tab) right now.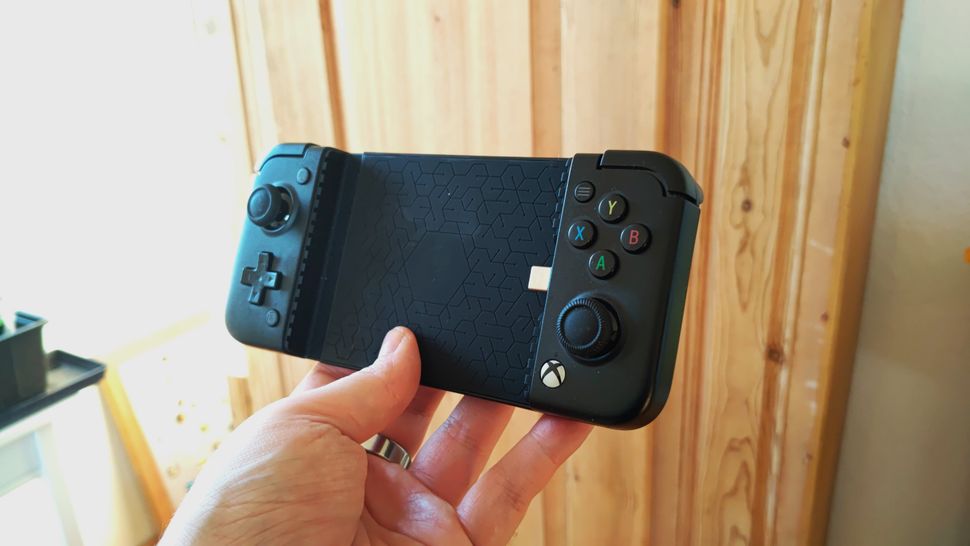 GameSir (opens in new tab) was among the first third-party companies to design and ship out high-quality gamepads with full Xbox Game Pass and Xbox Cloud Gaming compatibility for Android devices and has maintained a steady flagship position on the market since then. GameSir continued to preserve its pedigree in our GameSir X2 Pro review. This controller builds upon the successes of the previous GameSir controllers with improved ergonomics, cleaner inputs, refined materials, and more.
The GameSir X2 Pro is a Nintendo Switch-inspired, clamp-style controller that can be wrapped around most modern Android phones with a USB-C port. Compared to its cousin, the GameSir X3 review shows how this later revision brings many improvements by removing the cumbersome fan and refining the buttons, analog sticks, D-Pad, bumpers, and triggers for more precise inputs. It also includes two new mappable paddles on the reverse side with improved ergonomics, providing a superior grip shape for a player's palms.
However, the GameSir X2 Pro controller has a couple of drawbacks, the most predominant being its small size. Each side of the controller is smaller than Nintendo Switch Joy-Cons, making it slightly uncomfortable to grip and play games for longer gaming sessions for players with larger hands. Another downside is that GameSir X2 Pro isn't designed with larger thick phones in mind as the clamps can only go around 6.7 inches, and the USB-C connector doesn't protrude far enough to fit larger phone cases.
If you can see past these flaws, then the GameSir X2 Pro will serve you well, as there are few Xbox accessories out there that can match this product's high level of quality. The GameSir X2 Pro is available at local electronics retailers and online retailers like Amazon, Best Buy, Walmart, and the official GameSir store.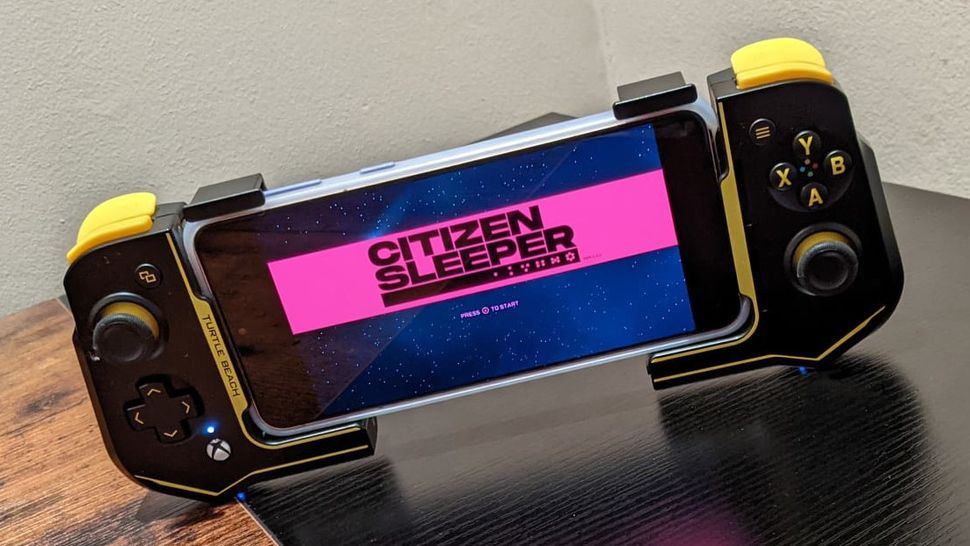 Products from Turtle Beach are widely regarded as some of the best third-party gaming accessories on the market, ranging from high-quality and affordable headphones and controllers. Recently Turtle Beach have dabbled into the Cloud Gaming market and has produced their first cloud-enabled controller to fit onto your smartphone, impressing in our Turtle Beach Atom review.
This controller sports a quirky design that can accommodate players with larger hands thanks to its bulky appearance, providing them with high levels of comfort for longer gaming sessions. It also features a creative two-piece magnetic clip system where the two halves of the controller can clip together to become smaller and make it more portable-friendly. In addition, the Turtle Beach Atom can attach itself to your phone without removing its protective case.
However, there are a few caveats to consider when purchasing the Turtle Beach Atom. While the buttons and analog sticks are satisfying to use, the triggers, on the other hand, are too spongy to use. This can make playing certain games like shooters unintentionally harder as the spongy triggers won't register your inputs half of the time. 
Another point of contention is that this controller doesn't have a pass-through charging section that most mobile controllers come with. You can only recharge the Turtle Beach Atom while it is in its compact travel mode. This means you can't play with it while it's low on batteries or charge it while you play. On the bright side, the controller compensates for this by having a 20-hour battery life.
Despite those flaws, the Turtle Beach Atom is an incredibly comfy and stylish controller with a practical design that allows it to be easily stored for travel. It is usually sold at lower prices than its premium competitors, like the Razer Kishi V2 and the GameSir X2 Pro controller. 
So if you're looking for a budget controller that can that is designed to be held by larger hands and stands out from the crowd in terms of visual aesthetics, look no further than the Atom. It's available for purchase via online retailers like and on the official Turtle Beach website.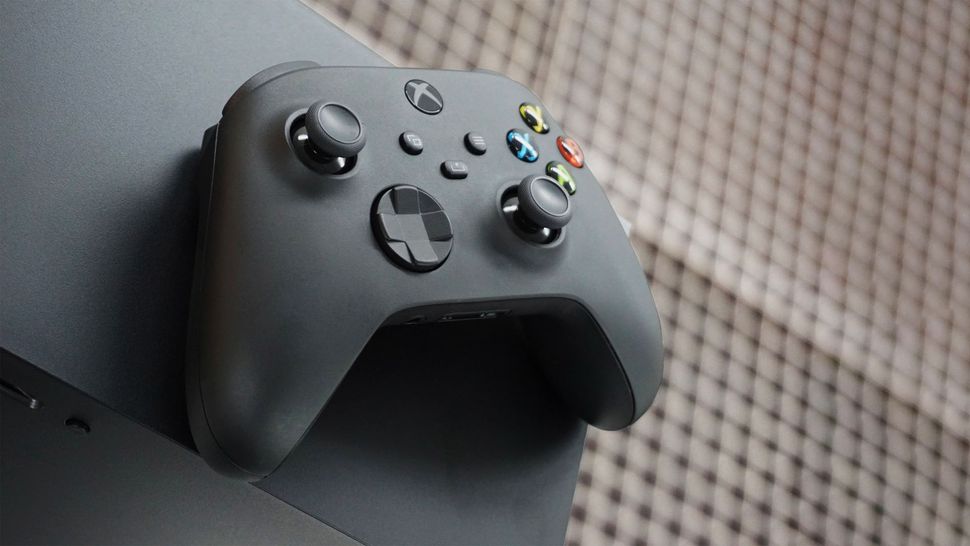 Cloud gaming has spawned all types of mobile-geared Xbox accessories, improving gaming through a smartphone. But our Xbox Wireless Controller review proved it's still worth your consideration. The same controller is bundled with Xbox Series X and Xbox Series S consoles and is unmatched in ergonomics and familiarity. The latest and most significant revision of Microsoft's signature gamepad works better than ever between platforms, with several cloud gaming considerations. Two decades of refinement make for one of the best Xbox Series X and Xbox Series S controllers, also ideal for mobile use.
The new Xbox Wireless Controller isn't a huge departure from past designs, remixing the best of Xbox One instead. It brings forward praised signatures of past revisions, like a shared button layout to asymmetrical thumbsticks, each immediately familiar to Xbox fans. Upgrades include the revised silhouette, textured finish, and all-new "Share" button, improving the everyday in-hand feel.
Microsoft also made this controller with cloud gaming considerations, chiefly with onboard Bluetooth on mobile and PC, accompanying the usual Xbox Wireless connectivity. It maintains low latency to keep inputs smooth, with hidden features like cross-device switching that improve use with multiple devices. But as a controller primarily designed for an Xbox connected to a TV, you need one of the best Xbox controller phone clips to mount your device directly to the official gamepad.
The official Xbox Wireless Controller is immediately familiar to existing Xbox (opens in new tab) players, delivering a great gaming experience. It's one of the few that works wirelessly on your Xbox and mobile, presenting incredible value in just one accessory. The ease of use and affordability make this a no-brainer, plus you've got various colors to choose from at the checkout. The Xbox Wireless Controller range starts from $60 in the U.S., albeit with regular discounts below the usual RRP.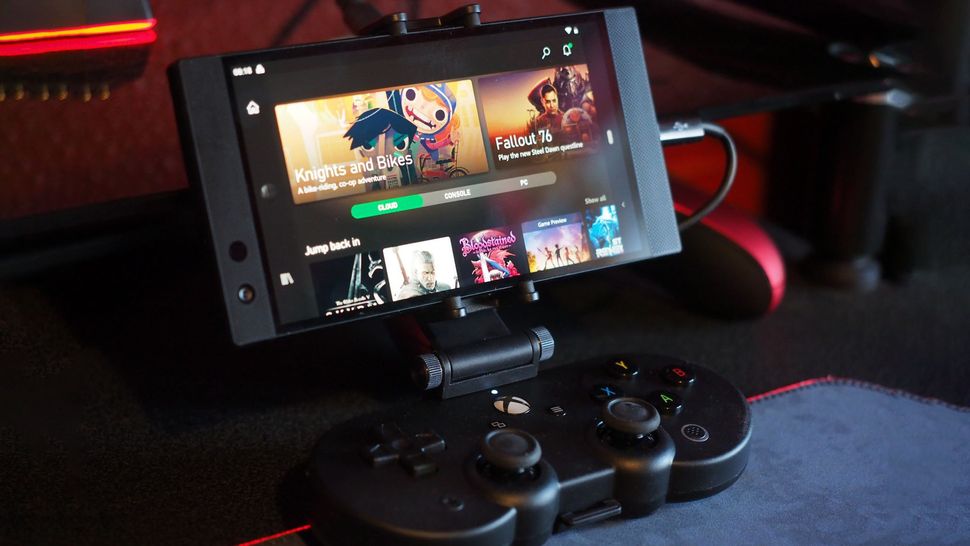 This fun-sized gamepad is one of the most portable options for Xbox Cloud Gaming, compact for travel, and ideal for kids. Accessories manufacturer 8bitdo remixed its Sn30 Pro controller around Microsoft's latest mobile endeavor, adding buttons and inputs directly correlating to the Xbox controller layout.
This 8bitdo controller demonstrates a vastly different approach to alternatives, taking inspiration from older Super Nintendo designs with a flat, slab-style silhouette. While the ergonomics leave much to be desired, it's a massive leap in accuracy and ease of use over touch controls.
It makes for a much smaller footprint, ideal for gaming on the go, with an included controller clip to mount smartphones. It has integrated thumbscrews to effortlessly fine-tune the angle of your screen, while a telescopic clamp keeps a tight grasp on most modern smartphones. Coupled with up to 16-hour battery life over Bluetooth, this controller considers all the demands for remote cloud gaming.
As outlined in our 8bitdo Xbox controller review, the notable criticism centers around the fundamental design of the accessory. The compact shape with thumbsticks side-by-side can prove challenging to hold for larger hands, especially if weighed down by a larger smartphone. That's a shame as an otherwise well-built gamepad, leaving this better suited to kids or those gifted with smaller hands.
The 8Bitdo Sn30 Pro for Xbox retails for $40 in the U.S., making this one of the most affordable picks in our roundup. Overall, build quality impresses for the price, and if you're a fan of this controller's style, don't overlook a compact pick.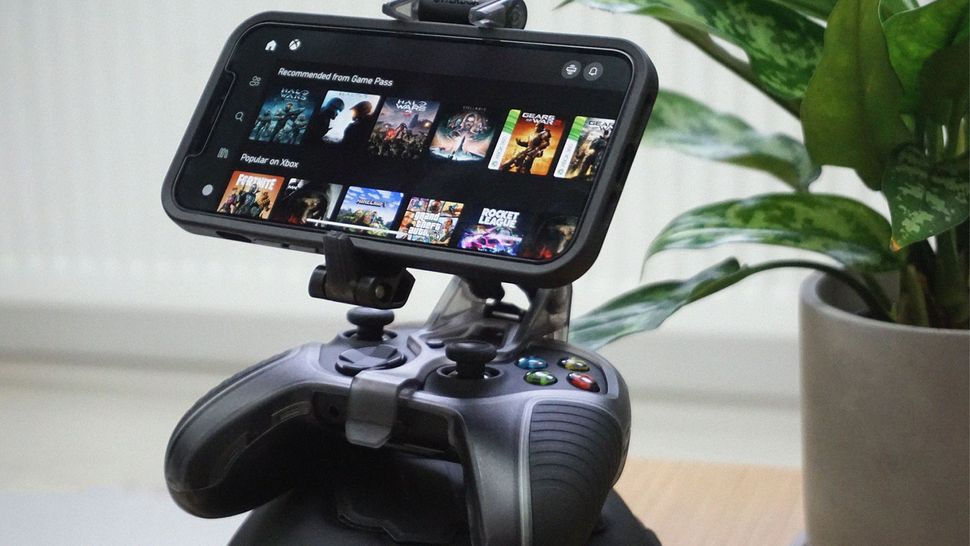 Phone clips provide an alternative to dedicated Xbox controllers, augmenting your existing console peripherals for mobile use. These add a phone-mounting solution to official Microsoft pads, similar to many of the best Xbox Cloud Gaming controllers. It's a natural way to experience game streaming from your phone without paying for the more expensive options listed here.
OtterBox (opens in new tab), famed for rugged phone cases, joins the latest with Microsoft-approved mobile gaming accessories for Xbox Cloud Gaming. The mobile gaming mount is among the best Xbox phone clips to date, and while costlier than some at $30, its function justifies the price tag. It supports the full spectrum of Xbox gamepads, from Xbox One, Xbox Series X|S, and Xbox Elite Series 2 controllers (opens in new tab), adapting to the needs of mobile play.
The OtterBox Mobile Gaming Clip for Xbox upgrades a fundamentally simple product with its rapid-adjust system for added flexibility, yet hassle-free. A lever lets you quickly switch up your phone position, alleviating the need for finicky thumbscrews and switches. The clip also detaches from the arm, transforming it into a tabletop stand if hand fatigue kicks in. This freedom and flexibility help present OtterBox as today's premium option.
While many clips are somewhat barebones, OtterBox brings real thought to this design. The small premium brings many quality-of-life improvements, from easy access to controller ports to a three-prong claw-style grip that won't constantly knock phone buttons.
There are cheaper alternatives, but its rich feature set culminates in a great overall experience, topping our list of recommendations. It upgrades any modern Xbox controller with integrated Bluetooth, ideal for Xbox streaming and other mobile gaming.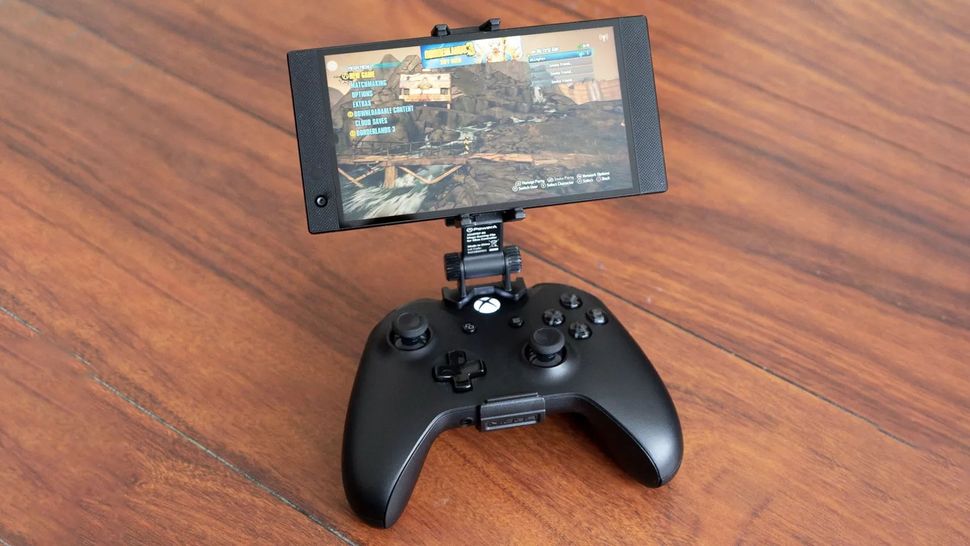 Phone clips for Xbox controllers start at incredibly affordable prices, and our PowerA MOGA Mobile Gaming Clip 2.0 review shows that it should top your list. This mount features all the fundamentals, and some added frills, especially suited to those wanting to try cloud gaming. If you're unsure whether game streaming is right for you, it's an investment that won't break the bank.
As the name implies, the MOGA Mobile Gaming Clip 2.0 is PowerA's (opens in new tab) second attempt at creating a gaming clip for Xbox controllers. The revised version now works with Xbox Series X|S controllers and previous-gen Xbox One, whereas the original supports only older gamepads. It also supports most modern smartphones with its rubberized and adjustable telescopic clamp.
While this clip is relatively simple, it brings improvements over the random Amazon (opens in new tab)-exclusive brands with cheap alternatives. It's robust and easy to use, maintaining a firm grip without damaging official controllers, and won't falter under the weight of heftier smartphones. It also has twin hinges, with thumbscrews for easy adjustment, providing up to 220-degree articulation for better viewing angles.
The Mobile Gaming Clip 2.0 is an otherwise impressive design that holds up over everyday use. That $15 price tag provides the best value for those still undecided about cloud gaming, only requiring a phone and controller to get started.
Which controller should I buy for xCloud?
Why you can trust Windows Central
Our expert reviewers spend hours testing and comparing products and services so you can choose the best for you. Find out more about how we test.
Xbox Cloud Gaming presents a brand-new, exciting method for players to experience the best Xbox Games out there — all by simply connecting to your mobile device through a stable internet connection. Among all the controllers on this list, the Razer Kishi V2 takes our top spot for the best overall controller for Xbox Cloud Gaming, as it is the closest you can get to converting your mobile device into an Xbox-style Nintendo Switch console in 2023.
Backbone Labs' Backbone One is another high-quality Xbox Cloud Gaming controller and is considered a great alternative to the Razer Kishi V2, especially for iOS phones. This device features a familiar Xbox-style handheld design with high-quality ergonomics and durable material and fits snugly onto various devices.
Finally, we have the GameSir X2 Pro, which improves upon previous iterations of GameSir controllers to create an exceptional and affordable product. It features well-constructed buttons, triggers, and bumpers that detect your inputs with precise accuracy. The best part is that the retail price is cheaper than the Backbone One and Razer Kishi V2, providing a less expensive alternative for players while maintaining similar levels of quality to that of its competitors.