Whether you've just started playing video games or are a longtime gamer, having the right accessories on-hand can make or break the experience. Extras designed to enhance the experience — by helping software load more quickly, creating immersive audio, or boosting the controller's response time, for example — can make a good game, great.
The right gear will often depend on what you're playing and what you prioritize. I can't live without my Nintendo Switch and protective case when traveling, but otherwise I only dabble in PC gaming and don't need any extras while playing Stardew Valley. My husband, on the other hand, games on PC almost exclusively and therefore has a dedicated video card, gaming monitor and gaming keyboard.
However you prefer to game, many items, such as headphones, can be used across platforms. With that in mind, here are the essentials to consider to make the most of your gaming.
Our top picks
Best Gaming Accessories
While some accessories are specific for certain consoles — take, for instance, the Microsoft Xbox Wireless Controllers for Xbox Series X and Xbox One — they can be used for other forms of gaming, such as PC. And no matter what you're playing, an ergonomic chair will come in handy. Here, experts in the field share their picks.
Corey Bertelsen, a game developer and gaming sound designer based in Stockholm, Sweden, swears by these headsets, which offer noise-cancellation and a built-in mic, for both office meetings and multiplayer gaming sessions alike. "They're really great at blocking outside sound from my ears, and I never have an issue with room noise bleeding into the mic," he said, adding that they're great for the price — and that the brand offers higher-end models that he's hoping to try out in the future. "They're great for the price, and Epos has some higher-end models that I would like to try out for my home use someday."
While this wireless controller is intended for the Xbox console, Bertelsen is a fan of using it for PC gaming, too. "It's one of the best for ergonomics and connectivity, especially if you have games on GamePass," he said. That ergonomic feel can be a game-changer, especially if you have discomfort while playing for long sessions. That's the case for Tanya DePass, the founder and director of I Need Diverse Games (a non-profit that advocates for diversity in gaming) and pro streamer on Twitch.
"Since I have to use a controller due to having a long term RSI (Repetitive Stress Injury) when PC gaming, I go with this as it's comfortable, lightweight, and, with an additional dongle, can be used wirelessly with ease at my PC," she said. "It's far more comfortable to use for long sessions, and not feel pain or fatigue in my wrists no matter which game I've been playing."
While you can find a ton of high-end monitors with elaborate bells and whistles, a simple one is best for a newbie. "There are some high quality, affordable options in the Asus TUF series that have 144Hz refresh rates at HD or QHD for relatively cheap," Bertelsen said. "The trick is to have a high refresh rate at a resolution that your graphics card or console can support." Plus, he added, 4K monitors are quickly becoming the norm, as are curved monitors for the best visuals.
If you're planning to stream your gameplay online, you'll need a video camera. Nicole Sanchez, who streams on Twitch as Neeko, swears by this Sony model. "It's great for both filming and photography, but it's also a staple for my gaming setup as I use it to stream every day," she says. "I love the face blur feature on it, as sometimes the 4K definition on its own is a little too intense."
Whether you're PC gaming on a laptop or desktop, a gaming mouse is a must for fast, accurate gameplay. "This has been my mouse of choice for three or four years now," Sanchez said. "It comes in both a wired and wireless version, which makes it a great choice since it can fit any personal preference." Pro gamer Bruce Greene also noted that it's lighter than most gaming mice. Plus, he says, "the mouse clicking feels so tactile, and the rubber grip makes it feel firm when moving it fast."
My husband is immensely proud of his Razer Huntsman gaming keyboard, citing its tactile feel and sheer aesthetics (see: the backlit colors). Plus, Greene added, "the Razer Huntsman V2 Keyboard is as accurate as a mechanical keyboard can get, and the keys are super-quiet. It also doesn't feel too bouncy when typing." He likes using it when playing the Dead Space remake on PC, since he always knows where his fingers are.
DePass is a fan of how clear the sound from this mic is: "The sound is rich, smooth and not brash, no matter how many times a game makes me shriek or scream in surprise." It also has a built-in condenser that "helps filter out a lot of the distracting noises that other mics pick up," she said. DePass uses it for streaming table-top role-playing games (think Dungeons & Dragons) and on Discord, noting that it has "some of the best audio I've had since starting content creation."
If your PC only has so much graphics power, consider upgrading to this card from AMD, which DePass said is one of the best she's used in years. (A new video card, by the way, can help deliver crisp graphics and smooth video, giving you an edge and a massive jump in quality in graphically-demanding games.) A clearer picture and fast, snappy performance are made possible with this particular graphics card, which is far more powerful than what you could find in a standard laptop, said DePass. "With the 16 GB of on-board RAM, it runs most games at Ultra or High settings with no lag or tear — and even when streaming on a one-PC set-up, I still get great resolution, smooth frames, and more even on taxing games like Elden Ring, Forspoken, and Baldur's Gate 3," she added.
Logitech x Herman Miller Embody Gaming Chair
This chair checks all the boxes for those doing long gaming sessions — it supports a range of positions, helping to reduce shoulder tension, and can support up to 300 pounds.. "This chair is not only aesthetically pleasing in my gaming set-up, but it's an all-around great chair while I'm gaming or streaming," Sanchez said: "I'm often sitting in my chair for over 12 hours while I'm streaming and I've never had an issue with this one! I love how it easily moves in any direction."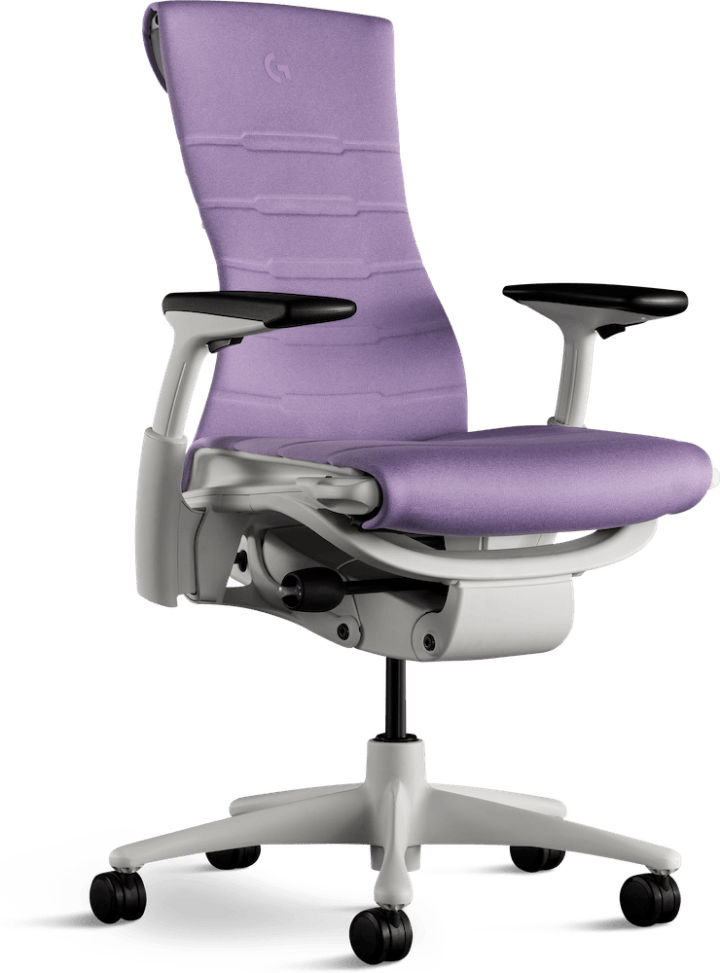 These durable, wireless headphones limit background noise, delivering uninterrupted sound for up to 30 hours of battery life. "They're perfect for keeping up with other people while streaming multiplayer games, because I can take a break from streaming and still hear my teammates laughing at me," said Greene, who also loves that the set-up (which involves a USB) is incredibly simple. Plus, it's compatible with both PC gaming and Playstations 4 and 5.
Part of the reason I love the Nintendo Switch as much as I do is for its portability; while I usually keep it docked and hooked up to my TV, I appreciate that I can pack it in a matter of seconds. What's made it even easier is this travel case. Although it doesn't have enough space for a charging cable (since I can usually borrow someone else's or pack it in my suitcase), it securely fits my Switch and a few games, but is still slim and lightweight enough to carry in my tote.
DePass relies on these headphones for just about everything, gaming or not. They're "one of the most comfortable headsets I've worn for long days at the desk, in Zoom meetings, recording, and of course streaming," she said "The battery life is fantastic, to the point I've forgotten to charge them overnight and still gotten a full day of use out of them before needing to plug them back in." She said they pair especially well with games like The Witcher 3, Mass Effect Legendary Edition, and Call of Duty: Modern Warfare II, in which hearing sounds in the environment is crucial for gameplay.
Catch up on Select's in-depth coverage of personal finance, tech and tools, wellness and more, and follow us on Facebook, Instagram and Twitter to stay up to date.